How to Record AVI Movies From Your Screen
---

The Colorful Fluid Mixing Gallery
---
Sometimes it is handy to be able to record what is happening on your screen or in a window to an AVI movie file. This can be done with the HyperCam program from Hyperionics. A free test version is available, but puts some text in the top left corner of your recording. After you registered, which can be done online, you get a registration code that fixes that. But otherwise the test version works just fine.
When you start HyperCam, you get the following window: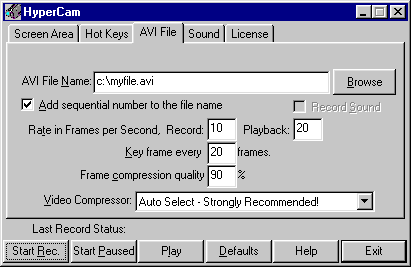 Under the AVI File tab, you can specify the name of the AVI file you wish to record. You can also set the record and playback speed. Here the record speed is set to 10 frames per second, and the playback speed to 20. So the final animation will play back at twice the speed of what has been recorded on the screen. My experience is that if I try to record at a speed greater than 15 frames per second, I start getting error messages. But if your PC and graphics board are faster than mine, you may be able to record at higher speeds.
Before starting the recording (the F2 key will both start and stop the recording) you need to select the screen area or window you wish to record, which is done under the Screen Area tab.

Return to Table of Contents
---
Last Updated February 20, 2012 by André Bakker © André Bakker 2000-2012