Rushton Turbine Surface Vortices
---
The Colorful Fluid Mixing Gallery
---
These graphics show the turbulent vortices forming at the liquid surface in a vessel agitated by a Rushton turbine. The vortices are visualized by means of an iso-surface of vorticity magnitude, and are colored by velocity magnitude. The vortices are shown in three views: zoomed in at the shaft, a top view, and a full vessel view.
These simulations were published in the proceedings of the 10th European Conference on Mixing, in a paper titled "The Use of Large Eddy Simulation to Study Stirred Vessel Hydrodynamics" (PDF file; 1Mb).
You can click on each image to view a GIF animation. The GIF animations are large and may take quite a while to download completely. You can save the animations to disk by clicking on the links with your right mouse button and selecting "Save ... as." As said, these are large animation files. But that is because they show the evolution of these vortices over many impeller revolutions, and I think that these are some of the best visualizations of the flow in stirred vessels ever; but I am biased of course (smile).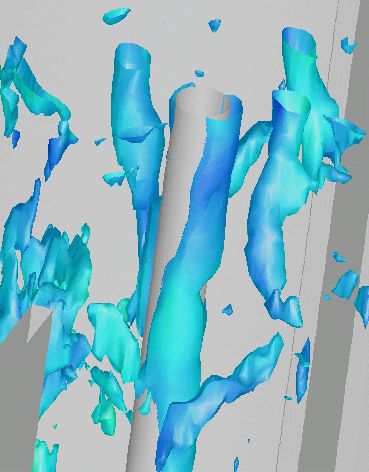 Surface vortices near the shaft. GIF Animation (6.2MB).
---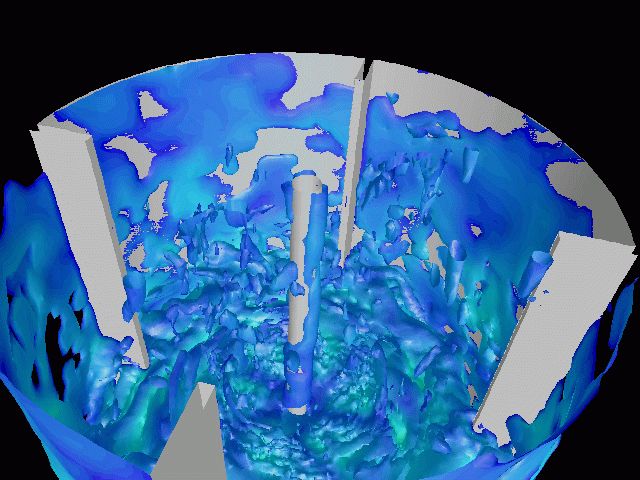 Surface vortices. Top view. GIF Animation (7.8MB).
---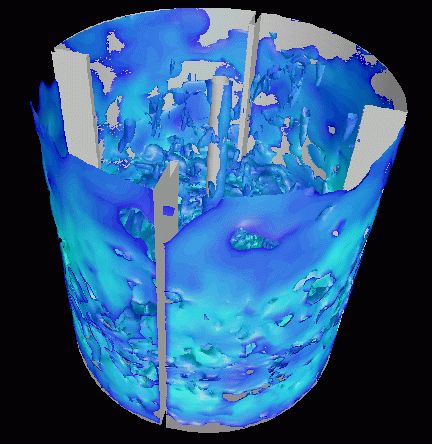 Surface vortices. Full tank view. GIF Animation (8.6MB).
Return to Table of Contents
---
Last Updated September 29, 2000 by André Bakker © André Bakker 2000