Curved Blade Impeller
---
The Colorful Fluid Mixing Gallery
---
Curved blade impellers, also called retreat blade impellers, are often used in glass lined mixing equipment. Although they find widespread application, less research has been conducted into how these impellers behave than into, for example, the Rushton turbine. This, even though there are probably more industrial systems that are equipped with curved blade impellers than with Rushton turbines. Glass lined systems are characterized by impellers and baffles with rounded edges, and are typically equipped with one baffle and a probe, both of which are suspended from the top head. These images show the results of a simulation for a typical system.

---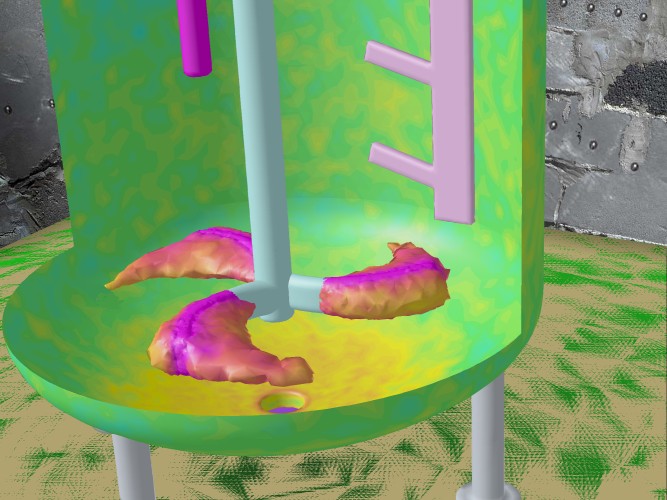 The wake behind the impeller blades is shown by means of an iso-surface of velocity magnitude, colored by vorticity magnitude. The vessel wall and bottom are also colored by vorticity magnitude.
---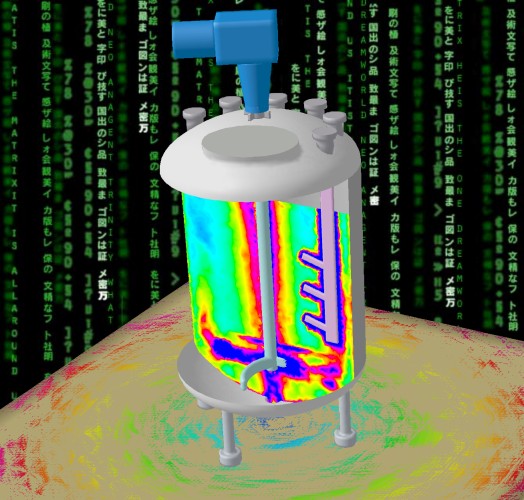 This image shows the velocity magnitude in the vessel, with purple and blue denoting the highest velocities. Note the high velocities around the shaft, which are indicative of the swirl created by this type of impeller.
Return to Table of Contents
---
Last Updated August 18, 2000 by André Bakker © André Bakker 2000